STRATUS TECHNOLOGIES AND AVEVA
PROVIDING RELIABLE, HIGH PERFORMING OPERATIONS FROM EDGE TO ENTERPRISE
Together, we deliver solutions that make the journey towards digitization, seamless for end-users
The AVEVA software that operates your manufacturing plants and facilities is only as good as the platform it runs on, whether its running a machine, managing a production line, a plant; monitoring multiple locations from a control room; providing KPIs to a command center; or sending data to the Cloud or Enterprise. Stratus is the partner of choice for zero-touch Edge computing because we provide platforms that protect and enhance your AVEVA software.
BUILT ON A 10-YEAR STRATEGIC RELATIONSHIP
For more than ten years, Stratus and AVEVA have offered an effective combination of hardware and software platforms for customers going through digital transformation journeys. Stratus platforms have supported approximately 500 deployments of AVEVA software in the past 5 years. Today, the two companies are working together to bring AVEVA's Edge to Enterprise initiative and the benefits of Industrial Internet of Things (IIoT), advanced analytics, Artificial Intelligence (AI) to its customers worldwide.
ztC Edge – a zero-touch, reliable, secure, highly automated computing platform
Companies across industries are facing mounting pressure to be more productive and efficient. At the same time, new technologies are becoming more powerful and more connected. The influx of data from new connected devices, and the need to analyze this data is driving the need for – and growth of – new edge computing infrastructure.
Consider ztC Edge
– a zero-touch, reliable, secure, highly automated computing platform, specifically designed for edge environments. ztC Edge is easy to set up, configure and manage for both IT and OT teams. With built-in virtualization and availability layer, automated data protection and application recovery, ztC Edge significantly reduces the barriers to virtualized computing at the edge. Its self-protecting and self-monitoring features help reduce unplanned downtime and ensure the continuous availability of business-critical industrial applications.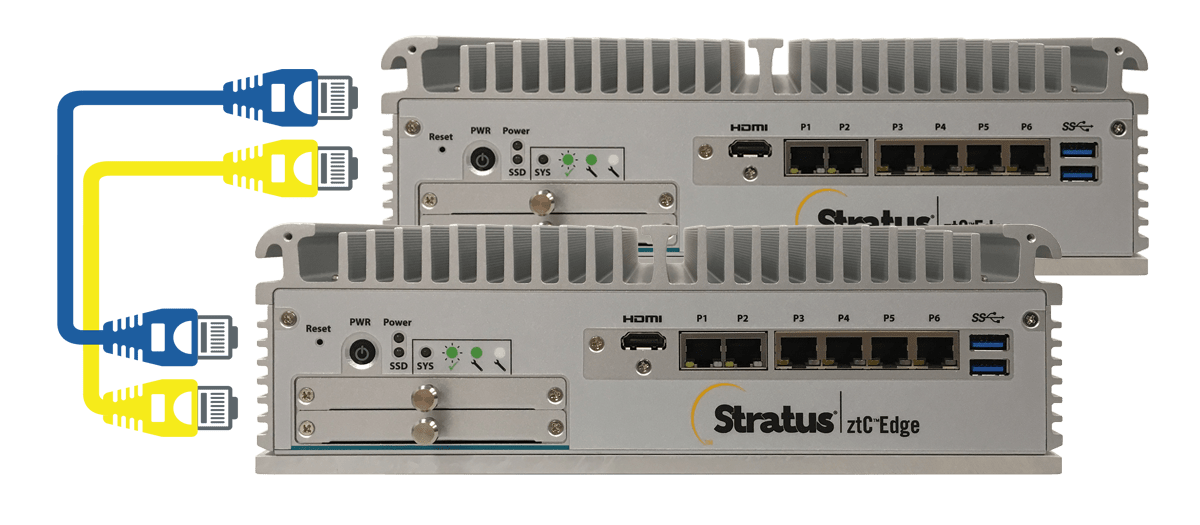 Eliminate process silos by making common information available and leveraging processes
Digitalize and automate work processes for greater efficiency and quality
Provide insight, analysis and decision support to enable the right actions for business outcomes
Enable greater visibility into every aspect of operations and asset management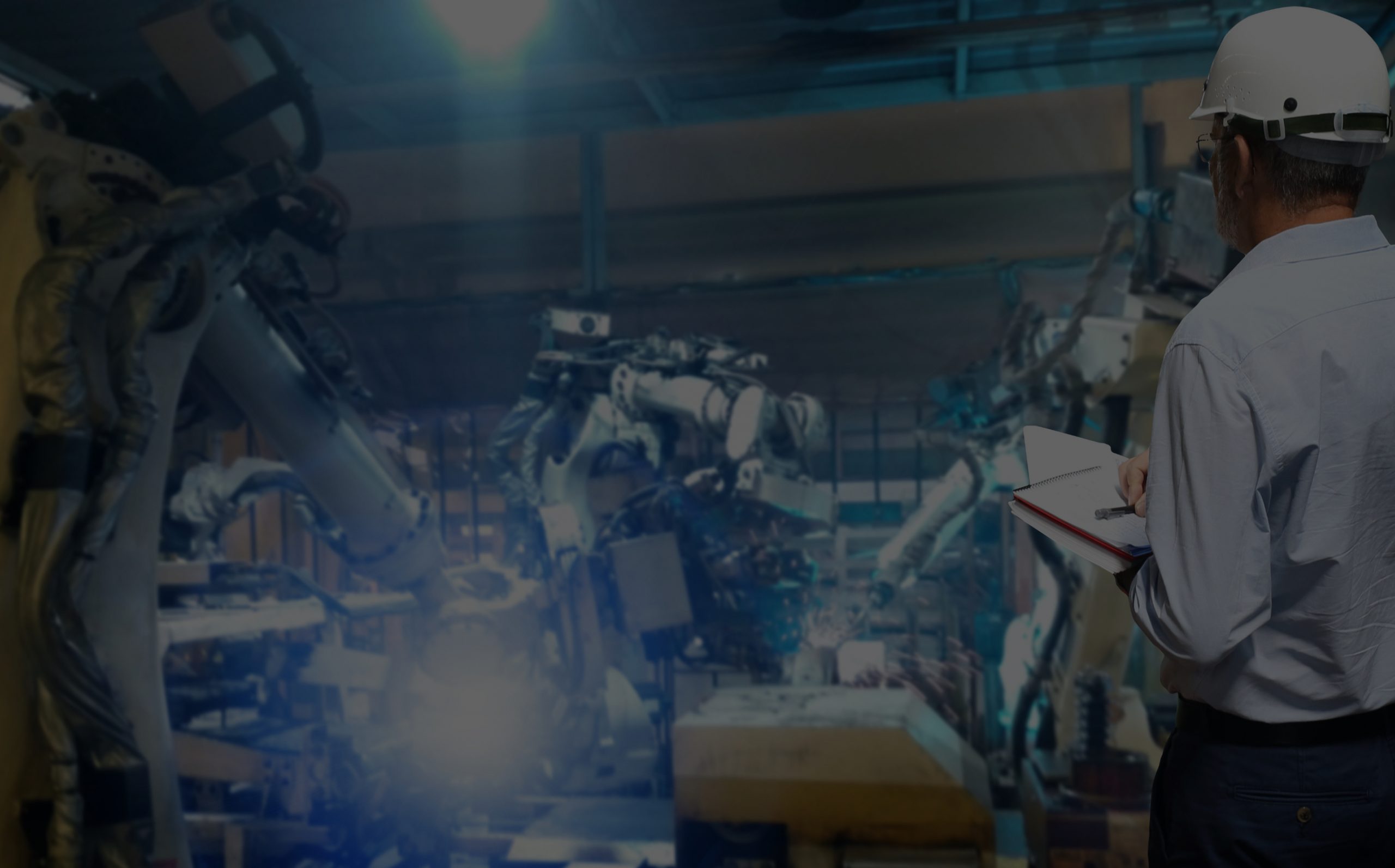 WHAT VALUE DOES STRATUS ADD TO AVEVA SOLUTIONS?
For 40 years, Stratus has protected customer installations from significant financial and reputational risk by securely and reliably delivering information from the edge to applications in the cloud and the data center. Now, we are extending these key strengths to AVEVA Solutions, whether they are on a machine, production line, the plant floor, in a control room, or running KPIs in a UOC.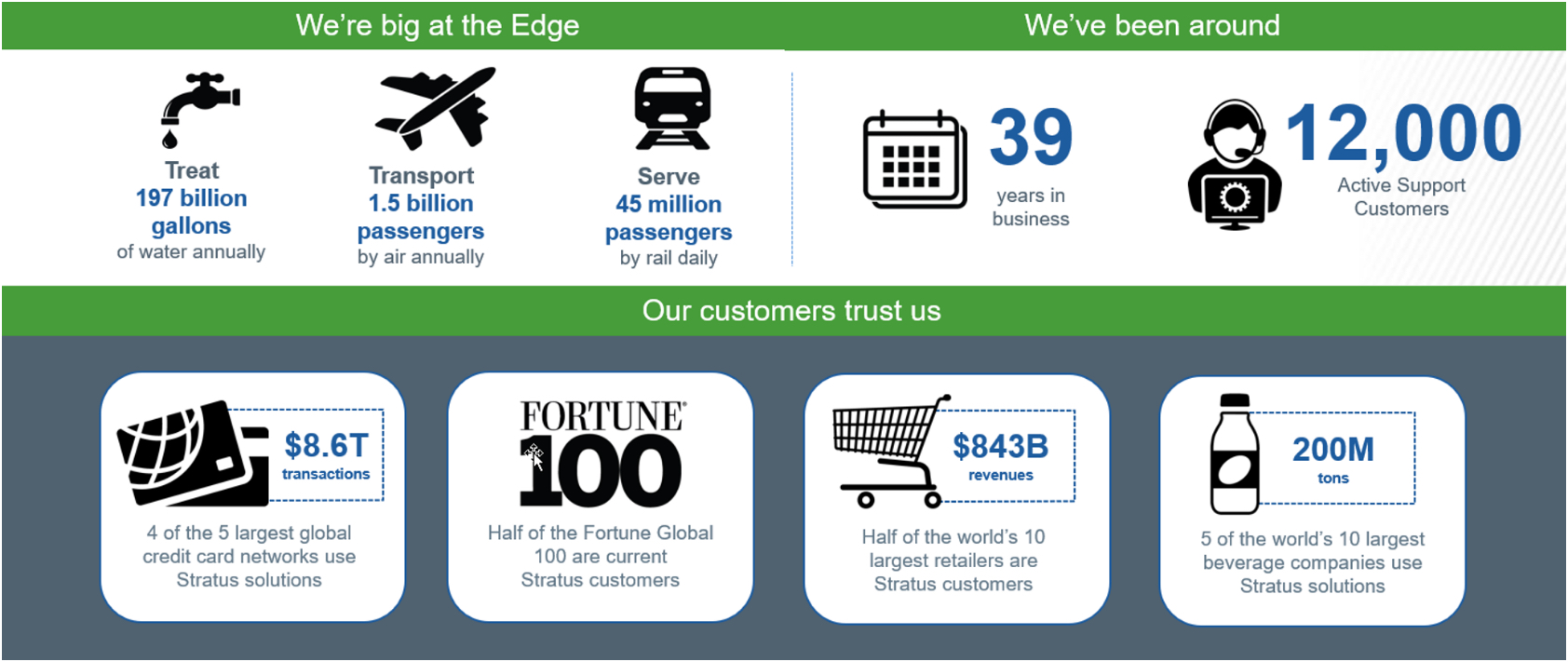 Your AVEVA software-based solutions should be easy to use as well as powerful, dependable, and extremely flexible.
Stratus' platforms make solutions based on AVEVA software perform more reliably throughout its lifetime, whether they are deployed at the Edge, in the Enterprise, or anywhere in between.